Tribest Sedona Combo SD-9150 Digital Raw Food Dehydrator
The 9150 Incorporates all of the terrific features of the Sedona 9000 plus the industry-leading  "TST" technology. TST makes dehydrating easier, more convenient with consistent results. 

The "TST" Feature is programmable to operate in 3 modes:
Fast Mode - 

Temperature stays consistent up to 155 F

Raw Mode - Lower Temperature up to 118 F

Combo Mode - Begin in Fast Mode and after a period of time automatically convert to Raw Mode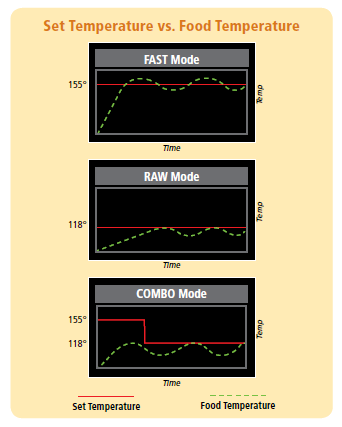 "TST" Feature - Allows you to control the dehydration process for almost any type of product. You can set the Two-Stage Sequential Temperature-Timer and watch it run in "Fast" mode of up to 155°F for the first few hours, then automatically switch down to "Raw" mode of 118°F or less for the remaining dehydration time.
The Sedona Dehydrator is another of TribestLife's small appliances for healthy lifestyles. The Sedona Food Dehydrator is engineered to last with some fantastic features not previously offered with dehydrators. Twenty years in business and the 5-year warranty is Tribest's commitment that your dehydrator will provide years of trouble-free operation.

Sedona Product Overview 


Accurate, Efficient, and Elegantly Styled
The Sedona nine tray digital food dehydrator from Tribest accurately and efficiently distributes heated air, drying foods better and much more evenly when compared to other food dehydrators. Additionally, Sedona's heating compartment can be divided into two drying chambers offering unsurpassed versatility while using less electricity and eliminating excess waste.

Other food dehydrators claim to be digital but only offer digital timers and do not control the current temperature within the drying chamber. Sedona is the only dehydrator which offers an all-digital control panel and is fully automated to accurately control the way your food is dehydrated.

Two digitally controlled fans with heating coils and heat sensors divide Sedona into two drying chambers. Dual Fan Technology allows you to program Sedona to be used at its full capacity or half its capacity. Conveniently choose to dehydrate four, five or nine trays of food at a time for small to large batches of your favorite recipes. Additionally, set Sedona's already quiet fans to day or night mode for extremely quiet operation. 

Additional Sedona Features 
On/Off Switch – Easily switch Sedona on and off without having to disconnect the power cord from the wall outlet.

Temperature Display Mode – The digital temperature display panel consistently displays the current temperature of Sedona® in Fahrenheit (°F) or in Celsius (°C) degrees within each drying chamber, measuring the temperature of the circulated air and giving you an accurate reading of the current temperature range inside Sedona. A blinking glyph identifies which heating coil is active.

Quiet Operation – Sedona has extremely quiet fans but also features a unique night mode setting which reduces the speed of each fan, thus reducing overall noise for quieter operation during the evening hours when you are sleeping.

Energy Efficient - Sedona® efficiently and evenly distributes heated air utilizing Dual Fan Technology controlled digitally for optimum performance. Each fan-heater-set can be used independently to dehydrate four to five trays for smaller batches of your favorite dehydrated recipes; using less energy when compared to dehydrating nine trays with both fans at full capacity.

Glass Window – Easily monitor the food dehydration process with your own eyes without having to switch the unit off or opening the unit door.

Digital Temperature Control – Because the heated air from each fan-heater-set is monitored by its own heat sensor, the temperature can be easily adjusted to your preferred setting for the most accurate and efficient operation.

Electronic Digital Display – Accurately and easily set Sedona to your preferred temperature setting without disruption. Also, the current drying temperature is digitally displayed for your convenience.

Digital Timer - Adjust the digital timer to dehydration times up to 99 hours or set Sedona to continuous mode for 150 hours of uninterrupted operation.

Compact Design – Sized identically to replace most microwave oven space designs.

Dual Fan Technology – Sedona is the first dehydrator to offer a total of 600 watts using two sets of 300-watt independent fans, two heating coils, and two heat sensors, controlled digitally and grouped together to form two fan-heater-sets, which can be set to operate independently or simultaneously, giving you the option to dehydrate up to nine trays of your favorite dehydrated recipes at once. Because Sedona can be set using only one fan-heater-set (one fan with heating-coil and heat sensor), less energy is used when dehydrating smaller batches of your favorite recipe, overall noise is reduced during operation, and heated air is managed more accurately and distributed more evenly throughout Sedona.

Each heat sensor monitors the current temperature of each independent fan- heater-set within its own chamber - designed to improve the efficiency and overall quality of circulated air during the dehydration process.

BPA Free Plastic Trays and Tray Mesh Screens – Each tray and mesh screen is made only with BPA free material and designed to optimize the dehydration area inside Sedona. Additionally, Sedona's casing is also BPA Free. Compared to other dehydrators which use harmful black dyes on their trays to help mask food stains, Sedona only uses clear plastic trays to make cleaning easier.

Air Vents – Sedona is designed with multiple air vents to allow for both even and efficient air flow and circulation of heated air. 

Product Specifications 
Advanced Digital Dehydrating technology efficiently controls the food dehydration process - accurately and evenly distributing heated air utilizing dual fans with heated coils. Moves air from back to front evenly across all trays. No tray rotations required!
Digital Thermostat control - perfect control over the drying process
Digital Temperature Display - always know your temperature is precise as you expect
Digital Timer - No more guesswork. Much more accurate than the simple countdown timers found on other dehydrators that are inaccurate by +/- 15 minutes
See-through tempered glass door. No need to remove the door to see progress
Quiet Operation - offers both day and night; puts you in control over the process


Includes the following:
1 BPA Free Plastic Debris Matt
9 BPA Free Plastic Mesh Tray Screens
1 BPA Free Plastic Closed Tray (Compartment Divider)
1 Detachable Power Cord
1 Operation Manual


Specifications:
Net Weight: 23.4 lbs (10.6 kg)
Unit Dimensions: 17in.(W) x 19.7in.(D) x (H)14.6in. (H)
Tray Size: 15.25" (L) x 13" (W) x 1" (H)
Tray Drying area: 14" (L) x 11.5" (W) x 1" (H)
5-Year Warranty